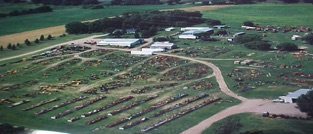 New & Used Heavy Equipment and Ag Tractor Parts
•Nationwide Parts Locating Hotline
•Used Parts from our salvage
•New and aftermarket parts from our dealer partnerships.


We are located in West Central Minnesota - about 1 hour southeast of Fargo, ND and 3 hours northwest of the Twin Cities - off I-94.
We suggest you call BEFORE
you drive to shop.
It will help us serve you better.
Business Hours:
Monday-Friday 8-5
Saturdays by appointment.
**CLICK ON MAP TO FIND DIRECTIONS ONLINE**
From Erhard:
•Head East on CR 24 (at Liquor Store) for 5 miles
•Turn South on CR 3 at stop sign and travel 4 miles
•Turn East on CR 22 for 3 miles
•Shop is on the North Side of CR 22
From Fergus Falls:
•Go North out of town on CR 1 (Ottertail Lake Road)
•Turn North on CR 43 (at Weetown) and head North for 5 miles
•Turn East on CR 22 at "T" and head East for 3/4 mile
•Shop is on the North Side of CR 22
From Fargo:
•Take I-94 SE toward Fergus Falls
•Take the Pelican Rapids exit - Head East on HWY 108
•At the stoplight in Pelican Rapids, turn South on HWY 59
•Take HWY 59 South to Erhard
•Head East on CR 24 (at Liquor Store) for 5 miles
•Turn South on CR 3 at stop sign and travel 4 miles
•Turn East on CR 22 for 3 miles
•Shop is on the North Side of CR 22